Forest of Flowers Kitchener
Flower Delivery in Kitchener
Looking for Fresh, Same Day Flower Delivery?
Forest of Flowers is a locally owned Kitchener flower shop dedicated to serving the Kitchener community. Our local floral shop is proud to offer fresh, stunning flowers that are perfect for all of life's special occasions.
Are you looking to send flowers in Kitchener? We're proud to offer same-day flower delivery to ensure our customers can receive their florals quickly and easily.
Our talented florists in Kitchener create stunning wedding packages, with free consultations and on-site quotes to meet your unique vision.
Let Forest of Flowers Kitchener be a part of your next special occasion or celebration with fresh, high quality flowers and floral arrangements. We're pleased to be your choice for Kitchener flowers.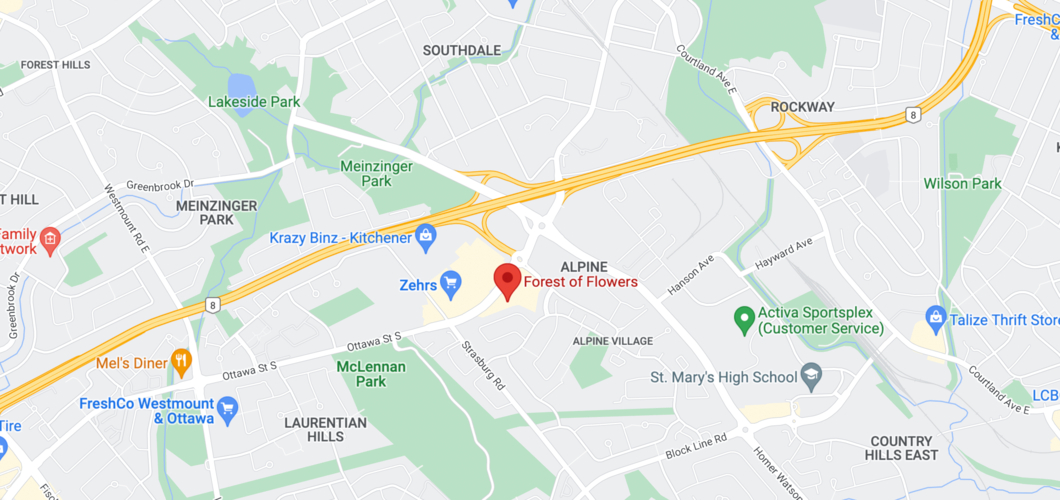 Same Day Flower Delivery in Kitchener
Forest of Flowers Kitchener offers SAME-DAY hand delivery for elegant, affordable and fresh floral arrangements & gift baskets. Order from our Kitchener flower shop today!
Forest of Flowers Kitchener provides a variety of beautiful fresh flowers to suit every occasion you may be shopping for. Our wide selection of floral arrangements are perfect for holidays, graduations, Valentine's Day or any other special occasion and celebration! All of our arrangements and bouquets are hand designed by our in-house floral designers. If you're looking to send flowers in Kitchener, Forest of Flowers is here for you! Our Kitchener flower shop offers local delivery options, as well as in store pick up!
Our Kitchener Forest of Flowers Designers proudly deliver to the following area codes, neighbourhoods and surrounding areas: N0B N3A N0B N0J N0K N3B N3A, Ayr, Baden, Bamberg, Bloomingdale, Breslau, Bright, Cambridge Northwest, Conestogo, Crosshill, Elmira, Erbsville, Floradale, Hawkesville, Heidelberg, Linwood, Lisbon, Mannheim, Maryhill, New Dundee, New Hamburg, Nithberg, Paradise Lake, Petersburg, Phillipsburg, Plattsville, Roseville, St. Agatha, St. Clements, St. Jacobs, Shakespeare, Tavistock, Wallenstein, Wellesley, West Montrose, Winterbourne, Mount Hope, Huron Park, Old Berlin Town, Civic Centre, Victoria Park, Cherry Hill, Cedar Hill, King, East, Auditorium, and Central Frederick.
Your Kitchener Florist
Forest of Flowers Kitchener offers amazing prices on stunning flowers and floral arrangements. We use wholesale volume discounts and fewer middlemen to keep prices lower than other florists – and pass those cost savings onto you.
Our clients and community's safety comes first - that's why our Kitchener flower shop has a No Contact Delivery Policy in order to protect everyone's health and safety.
Flowers for Every Occasion
Forest of Flowers Kitchener has the perfect floral arrangement for all of your special occasions. A gorgeous flower arrangement is a timeless way to celebrate birthdays, retirements, a new baby, anniversaries or a new romance. Get your flowers delivered directly to your door or pick them up in store at our flower shop in Kitchener. Whether you're looking for Valentine's Day roses, wedding flowers, graduation flowers, Mother's Day flowers, or anything in between, our Kitchener florists will have the perfect florals for you.
Having a hard time picking out which floral arrangement is right for you? Our Florist's Choice Deal of the Day is the perfect choice! Our florists in Kitchener put together a gorgeous floral arrangement in a vase with stunning, seasonal flowers. If you're looking for beautiful flowers to show someone just how much you care, head to Forest of Flowers for stunning florals at an affordable price.
A Part of the Kitchener Community
At Forest of Flowers Kitchener, we know that our loyal customers are at the heart of our business. It makes us extremely proud to see encouraging reviews about the positive experiences our customers have had at our Kitchener flower shop.
Josipa Ferk
Sat Nov 25, 2023
Source: Google
Craig Stroyan
Thu Nov 23, 2023
Source: Google
Katie G
Fri Nov 03, 2023
Source: Google
We used Forest of Flowers for our wedding and could not have been happier!!! We had two bridal bouquets and two flower crowns. Everything was so beautiful and fresh and stood up well the whole day. The designer sat down with us and went over lots of options and asked lots of questions to make sure she could design exactly what we wanted and she did an incredible job.