Forest of Flowers Burlington
Flower Delivery in Burlington
Looking for Fresh, SAME-DAY Flower Delivery?
Forest of Flowers is a locally owned Burlington flower shop dedicated to serving the Burlington community! Our floral shop is proud to offer quality flowers that are fresh and long-lasting for every occasion.
Looking to send flowers in Burlington? We're proud to offer SAME-DAY flower delivery to ensure our customers can receive their florals in a timely manner.
Our floral designs can be catered to celebrate special occasions, corporate needs, funerals, and weddings.
We offer a variety of flower choices including roses, tulips, lilies – and so much more! Let Forest of Flowers Burlington be a part of your next celebration or occasion with fresh, high quality flowers and floral arrangements. We're happy to be your choice for Burlington flowers.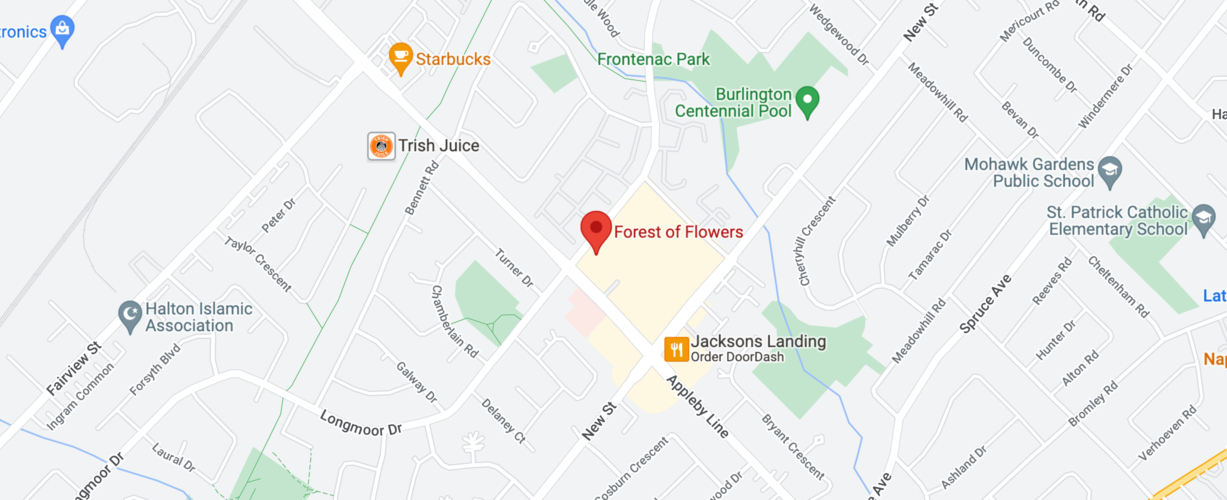 SAME-DAY Flower Delivery in Burlington
Forest of Flowers Burlington offers SAME-DAY hand delivery for fresh, elegant, and affordable floral arrangements & gift baskets. Order from our Burlington flower shop today!
At Forest of Flowers Burlington, we have flowers for any occasion! Impress your loved ones with our Valentine's Day roses and Mother's Day floral arrangements. Our wide selection of floral arrangements are perfect for holidays, graduations, or any other special occasion that you want to celebrate! Forest of Flowers Burlington has a wide variety of fresh flower arrangements that are designed by our expert floral designers. If you're looking to send flowers in Burlington, Forest of Flowers has you covered! Our Burlington flower shop offers SAME-DAY delivery options, as well as in store pick up!
Our Burlington Forest of Flowers Designers proudly deliver to the following area codes, neighbourhoods and surrounding areas: L7L, L7M, L7N, L7P, L7R, L7S, L7T, Aldershot West, Alton North, Aldershot East, Aldershot Central, Maple, Dynes, Roseland, Shorecrest, Elizabeth Gardens, Pinedale, Longmoor, Dynes, Palmer, Tansely, Corporate, Orchard, Milcroft, Headon Forest, Brant Hills, Alton North, Ancaster, Ballantre, Binbrook, Bowmanville, Bradford, Bramalea, Brooklin, Burlington, Caledon East, Carlisle, Cedar Mills, Claremont, Columbus Concord, Courtice, Dundas, Gormley, Grimsby, Hamilton, Hannon, Holland Landing, Inglewood, Kettleby, Kilbride, King City, Kleinberg, Maple, Mount Hope, Nobleton, Oakridges, Palgrave, Queensville, Schomberg, Sharon, Stoney Creek, and Waterdown.
Your Burlington Florist
Forest of Flowers Burlington offers affordable prices on beautiful flowers and floral arrangements. We keep our prices low and pass the savings onto you – using wholesale volume discounts and fewer middlemen to keep prices lower than other florists.
Our clients and community's safety comes first - that's why our Burlington flower shop has a No Contact Delivery Policy in order to protect everyone's health and safety.
Flowers for Every Occasion
Forest of Flowers Burlington has the perfect floral arrangement for every special occasion. Celebrate birthdays, retirements, a new baby, anniversaries or a new romance with flowers delivered directly to your door, or shop in store at our flower shop in Burlington. Whether you're looking for wedding flowers, graduation flowers, Mother's Day flowers, or sympathy floral arrangements, our Burlington flower shop has you covered.
Can't decide on a floral arrangement? Check out our Florist's Choice Deal of the Day. Our florists in Burlington will create a stunning floral arrangement in a vase with beautiful, seasonal flowers. If you're looking for gorgeous flowers to show someone you care, know that Forest of Flowers is the perfect choice.
A Part of the Burlington Community
At Forest of Flowers Burlington, we believe that our loyal customers are at the heart of our business. That's why we're proud to hear what they have to say about their experiences at our Burlington flower shop. Let these reviews speak for themselves:
Husam Al Rubai
Tue Aug 15, 2023
Source: Google
Robert Demille
Mon Jul 10, 2023
Source: Google
David Deboer
Sat Apr 15, 2023
Source: Google